Membership Information
SJGT Mission Statement:
The mission of the Southeastern Junior Golf Tour is "To provide opportunities for junior golfers to compete in organized golf tournaments, on quality golf courses, under the USGA Rules of Golf, in order to increase their skill and knowledge of the game of golf."
The Southeastern Junior Golf Tour is in its 27th season and is looking forward to another quality year of competitive golf.
The Primary Goals of the SJGT:
To give aspiring junior golfers opportunities to develop their tournament skills and enjoy a quality tournament atmosphere
To help each player enhance his/her skills in tournament golf and learn the fine points of the USGA Rules of Golf under competitive conditions
To give young people the chance to take their respective games to a higher level and enhance their golf resume
To highlight junior golfers' achievements to colleges, other tournament sponsors, and local and national media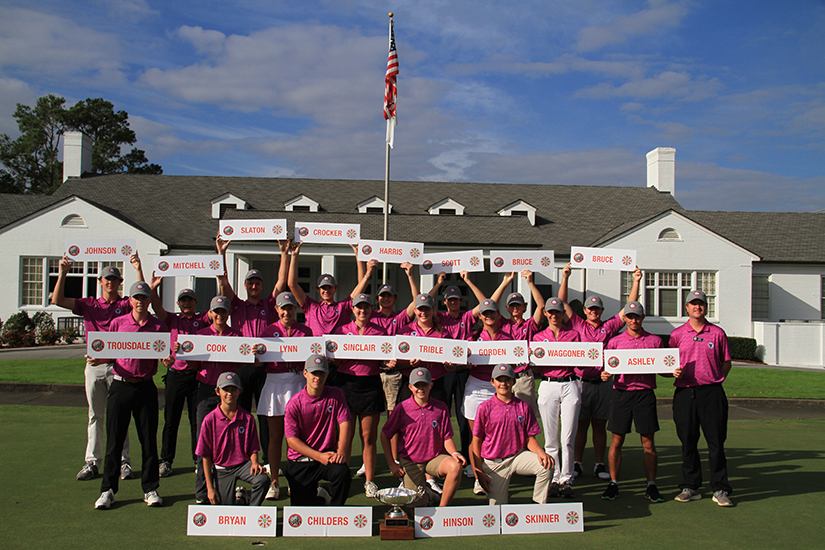 Membership Information:
Eligibility: The SJGT is open to all females and males between the ages of 12-19. Age is determined upon the first round of a tournament. A player may not compete in a tournament once he or she has reached the age of 20 or enrolled in college.
2022 SJGT Membership Fee
The 2022 memership fee is $200. The non-refundable fee must be received before a player signs up for his/her first tournament. THE MEMBER FEE IS VALID FROM JANUARY 1, 2022 - DECEMBER 31, 2022.
The SJGT has a fee structure for families that have 2 or more SJGT members. A family of 2 will receive a $30 discount on their annual membership and a family of 3 or more will receive a $75 discount. REMEMBER TO SIGN UP ALL THE SIBLINGS AT ONE TIME TO TAKE ADVANTAGE OF THE DISCOUNT. THIS AMOUNT WILL BE REFUNDED TO YOU ONCE ALL SIBLINGS HAVE REGISTERED FOR MEMBERSHIP. This discount does not apply to certain membership discounts we offer during the year.
All junior golfers that fall under the age eligibility defined above (12-19) are welcome, although a junior golfer should have some tournament experience to receive the full benefit from Tour participation.
Each SJGT member will receive the followng: Access to all OPEN SJGT events; access to the SJGT website, opportunity to qualify for invitational events such as the SJGT Cup, The SJGT Tournament of Champions, and the SJGT Championship, among others. Each new member will receive a member packet that includes: SJGT Sharpie, SJGT/RTJ Trail Card, SJGT Sticker, SJGT Bag Tag, SJGT Hat, SJGT Poker Chip, SJGT Cell Pocket, etc. 
RTJ Member card for all members which grants them reduced greens fees at the RTJ Courses and reduced Range Ball fees. (Ross Brige and Lakewood are excluded.)
The SJGT has a pro-rated fee in 2022 that will take place after August 1, 2022. Anyone who hears about the SJGT late in the summer will be able to pay the pro-rated fee of $150 and be eligible to sign up for an event after the fee is paid.
 Registration Procedure:
Entries will open Wednesdays at 9:00 AM CST and will close at midnight the same day. Entry dates can be found on our website (sjgt.com), on our social media and in emails sent to members. The entry period may be extended to fill a field if it does not fill up on registration day. Once the entry period closes we will look at the number of entries received and how these entries fill the five different divisions with our goal being to provide ample competition in each age group.  The field will be posted Thursday morning after the registration period closed. 
The first players we will consider placing into the event will be the previous year's champion at that event. Next, any local players that registered during the entry period will be considered.  If we are in a large metropolitan area (Atlanta, GA or Birmingham, AL for example) a player will be deemed local if he or she is a member of the specific club where we are scheduled to play. Third, we will look at those players who signed up for a previous event but did not get in, and this is their first entry after the tournament in which they were designated an alternate. Any player on the alternate list for a tournament will be entered into the next event in which they register.  (Example: The 2021 Brunswick Junior Classic is sold out. Anyone who signed up on time would be put on the alternate list. One alternate registers next for Hampton Cove, another registers for Montgomery CC. Both players would be placed in those events because they were on an alternate list for Brunswick.) Moving forward we will put a player in the first event in which they register after being an alternate in order to make the registrations more equitable, to make sure a player is not on the alternate list time after time and to eliminate the stress of having to be at your computer at a specific time. We must emphasize that the time you sign up will matter when we look to fill the field and for the alternate list but it is no longer the only deciding factor.
The only alternates that will receive this benefit will be those who sign up on the specific entry day.  A member cannot sign up a day late and go on the alternate list and then expect to be entered in the next tournament they sign up for. The alternate list for each tournament will be printed from the entries received on time for future records.
*Please note: alternate lists do not carry over from one year to the next. At the beginning of each calendar year the alternate list will start again.
To summarize, the tournament will be filled with past champions first, local players second, alternates from a previous tournament third and then the remainder of the field will be filled on the first come first serve basis. As mentioned earlier the entries are time stamped so your alternate number will be based on when we receive the entry for every tournament and the fields will be posted the Thursday after registration closes.
Registration Information Regarding the SJGT Point Series Tournaments:
The SJGT Point Series is a group of tournaments in which players who have earned points playing in SJGT events will receive priority registration. Reserved registration for events in the SJGT Points Series will be as follows:
Female 12-14 division: 3 players; Female 15-19 division: 8 players;
Male 12-13 division: 6 players; Male 14-15 division: 12 players; and 
Male 16-19 division: 14 players. 
For example, if there are 40 total players that have registered in the Male 16-19 division, we will look at all 40 players' points prior to the designated tournament and select the top 14 point earners. We will select the remaining spots for the field based on a the time stamps from the remaining registrations. This process will be done for all five divisions. It IS possible for a player to register who doesn't have any points to get in the field. It depends on who signs up in each division and whether or not those players have points. 
Due to the fact that these events are rewarding players who have earned SJGT points, players listed on SJGT waitlists will NOT get priority placement. The balance of the field will be filled based on the registration time stamps for a particular tournament.
In addition, players who are waitlisted for points series events are NOT given priority for the next tournament in which they register.
The following have been designated as SJGT Point Series tournaments. 
MCC Junior at Montgomery Country Club in Montgomery, AL – May 25-26
Lee Hodges Junior at Canebrake Club in Athens, AL – June 1-2
Atlanta National Junior at Atlanta National CC in Atlanta, GA - July 18-19
Patton Kizzire Junior at Indian Hills CC in Tuscaloosa, AL – July 26-27
SJGT Championship at Wynlakes G&CC in Montgomery, AL - August 1-2*
TPC Sawgrass - Stadium Course at TPC Sawgrass in Ponte Vedra, FL - August 6-7
The SJGT/Harris English Invitational at Glen Arven CC in Thomasville, GA - August 13-14
UGA Invitational at UGA GC in Athens,GA - October 1-2**
*The field for the SJGT Championship is filled entirely based upon the point list. 
**For the UGA Invitational (Fall) we will also give exemptions to the following:
1)The 5 division winners of the 2021 UGA invitational and; 2) From the 2022 UGA spring event the top 6 and ties from the combined Female 12-19 division, the top 3 and ties from the Male 12-13 division, and the top 15 and ties from the combined Male 14-19 division.
If you have any questions please call our office at 334-887-9465
If you should have any questions please call the SJGT office at 334-887-9465.